Buena Vida Magazine - Latest Edition
On Sale $8.99
Latest Edition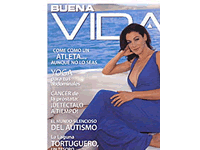 On Sale $8.99
Latest Edition
Magazines from Puerto Rico

Buena VIDA is Puerto Rico's first — and only — total quality-of-life magazine. With informative articles on nutrition, beauty, skincare, health, fitness, family affairs, child care, preventive medicine, men's health, home safety, exercise and much more, BuenaVIDA promotes every family member's well-being. Thanks to its timely, insightful information and how-to tips, BuenaVIDA is the practical guide to better living... helping you live the good life! With a circulation of 61,000 and a total readership of almost 305,000, advertising in BuenaVIDA will bring results to any product or service that appeals to a quality-of-life audience.
Back to Puerto Rican Recipe Books
Revista Buena Vida, Buena Vida Magazine from Puerto Rico